UI & UX

DESIGN

Our UI & UX design service is efficient and adapts to the fast-changing technologies and the Internet. Whether it's designing online stores, websites or simply redesigning your web showcase, we agree with you on the best strategy to adopt to convey your values and highlight your qualities to Internet users.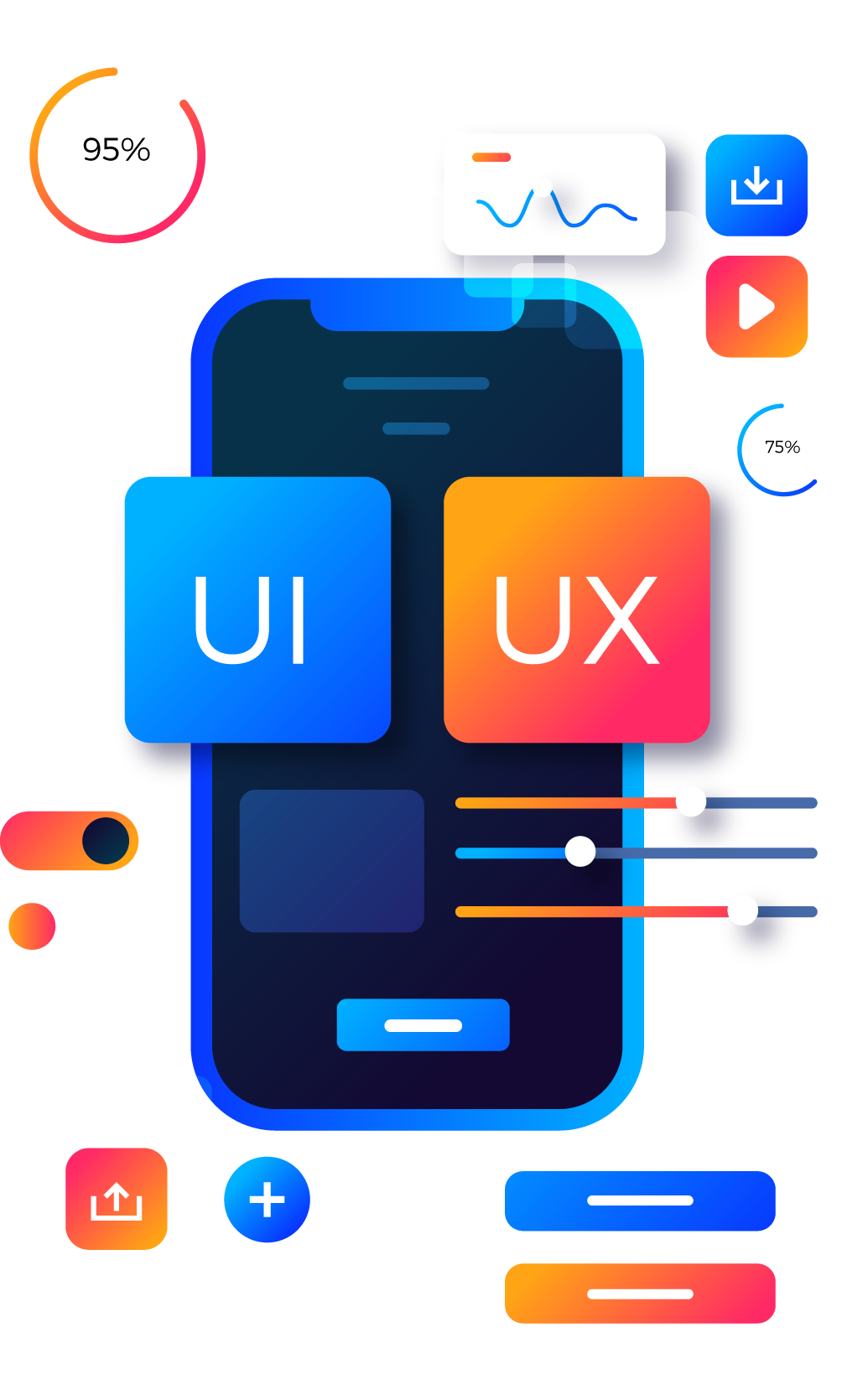 WHY DO I NEED

A QUALITY WEB DESIGN?
Your UI & UX design speaks for your company. It highlights your professionalism, builds credibility, trust, and value for the visitors. Moreover, it adds a sense of comfort for the visitor.
YOU NEED A QUALITY
WEB DESIGN BECAUSE:
90% of your prospective customers will visit your website before hearing from you
An elegant web design improves the conversion ratio for your business
Majority of businesses lose their sales due to their inability to create value and trust
Poor web design has been stated as the major reason
WHAT MAKES
Global Emirates Technology Solutions DIFFERENT?
At Global Emirates Technology Solutions, we understand that a great design is not limited to just a visually appealing website or App. Your website or App is a brand ambassador for your company that helps you to generate leads and sales. To help you cope with today's challenges we help you look towards the bigger picture.
Global Emirates Technology Solutions's proven design methodology can assist you to gain visibility on the web, attract traffic, and convert sales. With a forte' in website or App designing, we have a proven record of assisting both companies and users with limited or no design skills to quickly put up a site and showcase their content.
LOGO

DESIGN
The competition rate on any market is incredibly high today. To succeed, you need to make your business stand out, and building an 'identity' for it is an essential part of this process. Custom logo designs are what provides your company a 'face,' which means there can be no good branding without them. Your logo design helps you achieve your business goals, so it has to be really good. Customers will associate this image with your company in the future. Many of your prospective customers will judge your brand as a whole by the quality of the logo, so it has to be perfect.
THE BENEFITS OF
A PROFESSIONAL LOGO DESIGN ARE HUGE:
It looks great: You're not going to be embarrassed by it! In fact, you'll be super proud of it and you'll want everyone to see it!
It gives your business an identity: People will instantly recognise your products and services just by your logo. Having brand recognition is priceless.
It personifies the business: Having a logo personifies not only your business, products and services, but also you, the business owner. Your values and personality will go into the logo design, creating a brand your target audience can connect with.
It evokes a connection: Logo designs are created with your target audience in mind. When you evoke a connection between them and your brand, you know it's working.
THE BENEFITS OF
A PROFESSIONAL LOGO DESIGN ARE HUGE:
EXPLORATORY

Designing a logo for your business begins with the exploratory phase, where designers will present you with over 20 different logo designs to understand what logos you like and dislike stylistically.

WORD CLOUD

Designers put all the adjectives that have been mentioned into a word cloud, and physically draw connections from word to word so that they can begin to identify concepts that will inspire the logo design.

SKETCHES

Designers will begin sketching illustrations by hand that are symbolic of what you want the design to represent.

COLORS

After selecting your favorite logo, we carefully think about the messaging your brand wants to communicate, and identify and test out colors aligned with those emotions.

INTERNAL REVIEW

When the first round of designs is completed, our team of designers will look to our entire staff and use them as an extra set of eyes, making sure the logos produced meet the high standards of our talented team.

CLIENT PRESENTATIONS

Our designers will put together a presentation for you and your team, showcasing the top 3 to 5 logo designs in black and white. Once reviewed, we'll go back to the drawing board to tailor the designs to your feedback.

FINAL LOGO

Our team will work tireless with you so that all of your needs are met and the final logo serves as a perfect demonstration of all that your brand strives to represent.
GET IN
TOUCH
Have An Idea? We Will Provide A Quick Analysis And Free Proposal For It. Don't Worry, It Is Secure And Confidential.
Contact us